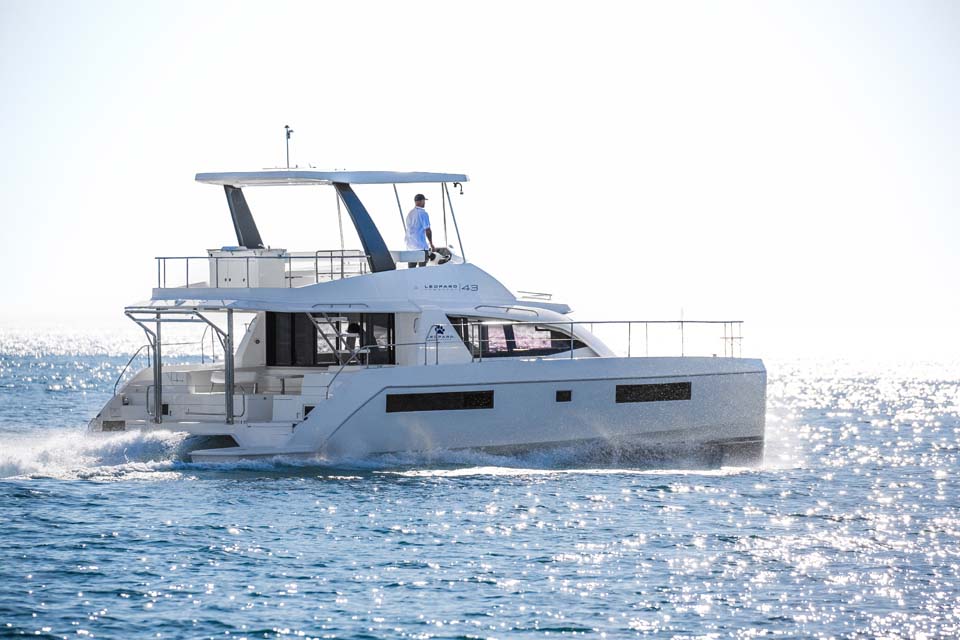 Catamaran à Moteur Leopard 43 PC
Le Leopard 43 PC a été construit par le chantier naval Robertson and Caine en Afrique du Sud. Le bateau à moteur mesure 12,44 m de long.
139 exemplaires, contre 137 exemplaires pour 51 PC. De 2015 à 2020, plus de la moitié sera confiée à The Moorings pour la gestion, et l'autre moitié sera du bonheur personnel. A l'ère de la forte demande sur le marché du neuf, l'offre de PC Leopard 43 diminue à son tour, les quelques modèles vendus se vendent très vite !
Leopard 43 PC est un terme général pour deux modèles différents. On distingue d'abord les versions à usage personnel, la plus courante étant la version trois cabines, puis les powercats armés par le loueur The Moorings. La plupart de ce dernier modèle s'appelle Moorings 434 PC et comporte quatre compartiments. La version 433 PC n'a que trois cabines (on la trouve plutôt aux Antilles).
Le Leopard 43 PC n'est plus en production aujourd'hui – il sera bientôt remplacé par le Leopard 46 PC – et les premières versions sont en place après 5 ans d'utilisation. Ce powercat est une variante lointaine de la voile Leopard 40 : les accessoires sont les mêmes -sans le foc- et il existe des versions 3 ou 4 cabines. Sur le pont, les suspentes sont très proches, mais Power obtient un pont rigide à l'avant, et surtout un grand fly bridge avec un cockpit tribord. Précisons dès le départ qu'il s'agit du seul cockpit… Le 43 PC est donc de taille moyenne, et est spécifiquement conçu pour être utilisé sous les climats tropicaux ou méditerranéens durant l'été, notamment en navigation de nuit. est prévu.
Constructeur
Caractéristiques du bateau
| | |
| --- | --- |
| Nombre de cabines | 4 |
| Nombre de couchettes | 8 |
| Capacité à la journée | 10 |
| Nombre de salles de bains | 2 |
| Nombre de toilettes | 2 |
Informations techniques
| | |
| --- | --- |
| Longueur H.T. | 13 m |
| Tirant d'eau min. | 0,94 m |
| Capacité d'eau | 780 L |
| Capacité de carburant | 1000 L |
| Nombre de moteurs | 2 |
| Puissance | 264 cv |